@nommy wow, many thanks for sharing this, I'm wondering what is Samsung doing
@nommy could you maybe share a Screenshot where to find the "allow background activity"? The only Things I can click are open deinstall or stop at the bottom.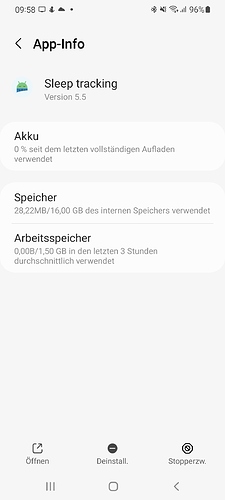 For me, it looks like this: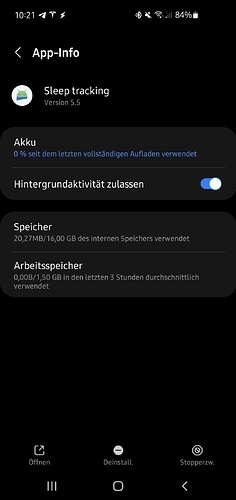 Maybe you have to update your Galaxy Wearable App (I'm on Version 2.2.47.21166061).
Hello, I can confirm the issue and the "Allow background activity" workaround on my GW4, big thanks again for sharing the workaround as this option really isn't easy to find…
Here are some more screenshots for where to find the option…
@nommy and @petr-urbandroid thanks for the Screenshots. Unfortunatally I am on the latest Version I can get from the play store and galaxy store which is 2.2.47.211220611 from the 10th of february. I use a galaxy s20+. Maybe I have to weit a bit longer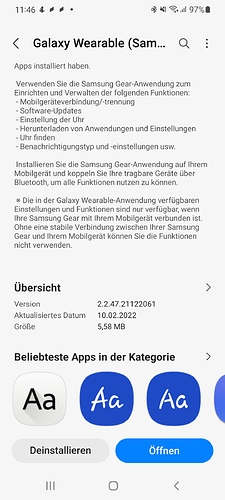 I'm using a Galaxy S10. Are you on Android 12 or still on Android 11. (My S10 is already on 12).
Oh ok, thats interesting. Yes I am on Android 12. Last Update was on the 3rd of february.
Just checked the settings again and for whatever Reisen the Option is now available


Thanks for your help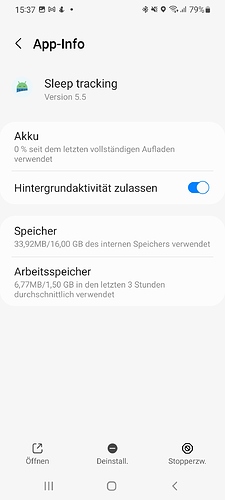 Unfortunately, on both the S21 Ultra and S22 Ultra, even setting the app to "unrestricted" (same as allow background activity) doesn't solve this for me. I'm using the beta version of the app.
it tracked for ~1.5 hours before stopping and showing only the red bar.
I'll try again tonight, just as a sanity check to be 100% sure (I'm on my new S22 that just arrived, and I am pretty certain I set to unrestricted last night, and not this morning, but I'll try again tonight just to be sure).
Sadly, I tested again last night, with the setting as it is in the screenshot above, and tracking stopped after an hour or so.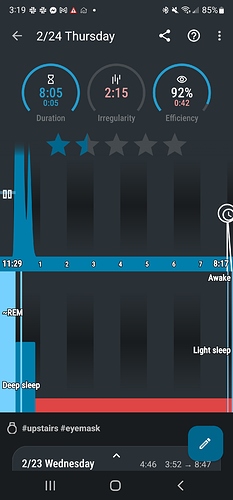 Why should you have other options? I think your are searching on the wrong end. Is this the setup of the Android app.
The option requested here is for the app on the watch (you have to setup on the phone). Go to your Wear App on the phone and go to "Watch setup". There you may find apps–>sleep tracking too. This may match the screenshots above.
ahhh, I misunderstood and thought it was for the phone app because the screenshot looked a lot like the phone app settings screen - thanks for the clarification. Looks like my own mistake! Just enabled background activity on the watch app, and will test again tonight! Thanks for clarifying.
I got my GW4 a week ago, paired with an S21. Everything is updated to latest versions, and I cannot allow background activity - the option is greyed out. I can't change it for any apps through Galaxy Wear -> Watch settings -> Apps
Anyone got any ideas?
GW4 version: R870OXM1FVC8
S21 version: G991BXXU4CVD2
UPDATE:
I decided to reset the GW4 and start over.
After reset, I installed SaA on the watch FROM the watch Play Store, closed Play Store and went to my phones Wearable app Galaxy Wear -> Watch settings -> Apps -> Sleep tracking and finally the option to enable background activity was available.
I have the same issue, heart tracking stops in the middle of night. I have simultaneously Samsung Health tracking for sleep on, does that maybe interfere?
Having this same issue, after enabled all mentioned above. The backround services worked for a bit but now i'm just like everyone else…broken. galexy 4 watch and S21…these restrictions are ridiculous. It seems the samsung health app gets a little more data then sleep app which redlines. Any idea's? workarounds? Thank you for any suggestions !
Galaxy Fold 4 has the same issue.
Started about the 1st week of June 2022
Very random. Some nights it works, most nights it is like others
This morning I changed the battery to 'Unrestricted' as mentioned above
I even uninstalled losing years of data to see if it would reset it, no luck.
** My goal was to do a full refresh install
Also disable Beta access before uninstalling/reinstalling
No luck. will see if the battery setting makes a difference.
Samsung Health is taking a reading one per the top of the hour, 1, 2, 3, 4 am etc…
Tom
Hi there,
did allowing background activity solve the problem with continuous heart rate tracking for you? My phone is galaxy s20 FE and I am having the same trouble (the option is greyed out). If it did, could you give detailed instructions? Thanks in advance.
Hi,
I got mine working with the method I posted:
Cheers