Please consider adding a Smart Bedtime option that does not take sleep deficit into account.
The reason is, Sleep is not reliable at determining actual sleep duration, or at least not in my experience using MB2 with heart rate detection.
If Awake detection is turned off, it's going to assume I'm sleeping as soon as it starts tracking. Although I do set a Delayed sleep tracking time, my actual fall asleep delay is far too erratic for that to be accurate.
If it's turned on, it's going to detect awake periods that I know for a fact never happened. This is especially common on heart rate spikes: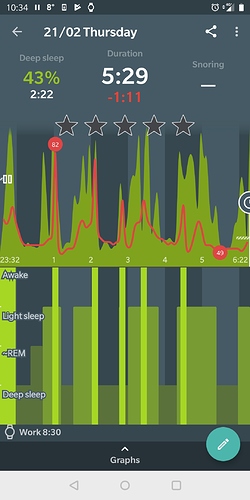 There was no interruption to my sleep that night.
The result is up to an hour removed from the real sleep duration, and by extension an excess of reported sleep deficit, thus an unreliable Smart Bedtime.