Please make a direct upload to Google Fit with no download. Pretty please, with honey and sugar on top!
The Google Fit sync downloads all the Pebble Health detrious - phantom graphs TO SLEEP AS ANDROID

, that make it so difficult to just send data DIRECTLY UP TO GOOGLE FIT, without downloading wearable-activity junk to SaA by an aggressive little applet. Make that go away by direct export to Googe Fit, NOT "sync." If people want to sync that stuff from their wearable, fine. But I don't want it; it's too aggressive and it messes up my Sleep As Android charts and stats!
This way, with an export feature to Google Fit, I wouldn't have to go through two different apps to get it done. (Sleep As Android→Samsung Health→Health Sync→Google Fit.) It doesn't always work!

A simple direct export would work every single time. Thank you!
I can't imagine why this would be difficult; if it is, let me know. Just a straight, smooth direct upload. I cannot turn off my wearable's sleep applet. I uncheck the box and it keeps on keepin' on.
Please, please, please!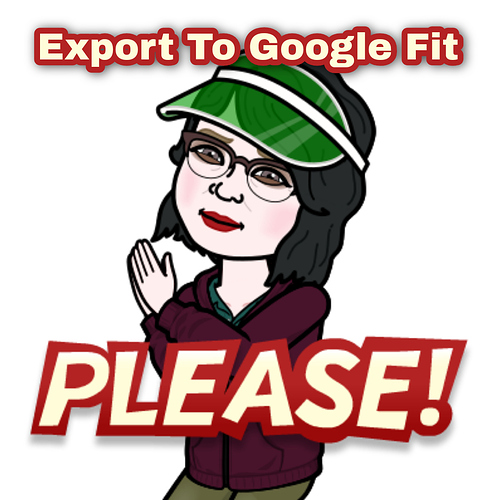 Thank you for your consideration. This has been driving me nuts for years. It goes straight up to Samsung Health, and then it has to go through the Health Sync app. Then I get no overly aggressive Pebble Health junk - no graph is created from that; you cannot stop it from sleep tracking, even if you uncheck the box in Pebble Health. I need the steps and activity, but I try to get around the "I Want To Sleep More," to which I yell at it: "there's an app for that!" But unchecking the box doesn't stop it; it's unrelenting. All I want are the steps! And also automatic workout tracking, which works splendidly. So I can't turn off Pebble Health→Google Fit: I need the steps.
I want to just upload-export directly to Google Fit.
Is the feature there already but I haven't found it? @jiri-urbandroid
Best,
Robin