Detailed description of the problem:
It flatlined for hours and then restarted.
When I awakened, my Pebble Time went from 100% to 60% overnight. This never happened before. Ever. I am not the only one. It's being reported on the Pebble Junkies Facebook page by several different people with several different watches in the Pebble line. I have to look around here to see what's happening with other watches of different brands.
I turned off all auto-tracking that I didn't know was running. But it happened anyway.
Steps to reproduce:
Hitting the Sleep button and going to sleep. Actigraphy by Pebble Time, which has never dropped more that 10%. Ever.
Version of Sleep as Android:
The very latest beta version. I think other people aren't in the beta program. So that's weird.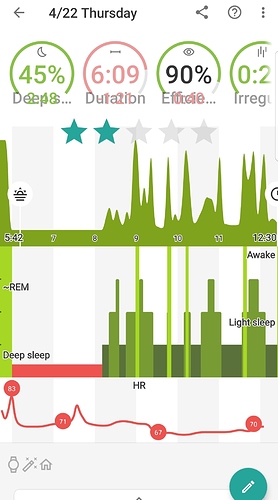 I left a bug report. Had to do it twice because I didn't use Outlook at first. All the logs should be there in the report.
Thanks for looking into it,
Robin